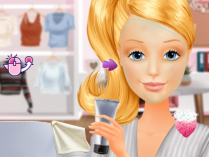 Ellie Get Ready with Me
Play the game to practice your makeup skills. Ellie Get Ready with Me. Let's work together to make Ellie look beautiful for the upcoming party. Assist her in washing her hair, cleaning her skin, and completely protecting her skin. Assist her with her makeup and outfit selection so she can enter the party with confidence. I see how resourceful you are for them! Let us help her become the most beautiful! What are you waiting for? Begin this exciting experiment today!
How To Play Ellie Get Ready with Me
To play the game, click the left mouse button.