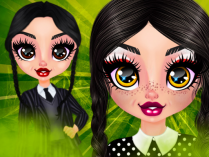 Gothic New Era
Gothic New Era is a fun dress up game. In the game you will assist the goth girl to build the special image of the dark princess. She is the new student, accompanying her to help her get dressed ready for the new school year. If you find it interesting, don't forget to play some other fun games like Minitoss and Magic Cat Academy.
How To Play Gothic New Era
To finish the challenge, all you have to do is left click or touch the screen. Wish you have fun!