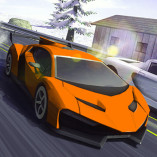 Drift Car Racing
Drift Car Racing is the best car driving simulation game ever that you have never played on any game, allowing you to explore every nook and cranny of the map. To start the game, you will first choose your favorite car from the garage. Then you will start with your car running on the roads around the city. There are many small streets connecting each other in the city that you have not explored yet. So your goal in this game is to drive a car to explore the roads around the city, avoiding collisions with other cars on the way. Drive as fast as you can and perform freestyle stunts on the roads around the city. Join now and show us your driving skills. I hope you have fun.
There are also many similar driving games that you can try, like Twisty Roads!, Car Stunts X,... Join today.
How To Play Drift Car Racing
Use the arrow keys to drive and the mouse to interact on the screen.