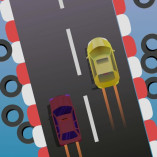 Drag Race!
Drag Race! is a fast racing game that takes place on the ring road, where you can do professional races or customize your favorite cars. In this game, you will participate in a racing competition with another racer. Both will be behind the starting line. After giving the signal, both will speed up together to overcome their opponents. Your track will be a long stretch of ring road with two sections separated by fences filled with tires. The track is very long and has winding bends, so to win, focus, control the speed, seize the opportunity, and overcome the opponent to win the competition.
Remember to stop before your car collides with the obstacles on the track, or you will lose. Watch carefully and demonstrate your excellent driving skills.
If this game still does not satisfy you, you can join some of our other racing games, such as Formula Rush, Nitro Speed,... Join now and conquer the attractive roads.
How To Play Drag Race!
Use the mouse to control the speed bar. Let's win the race. Good luck