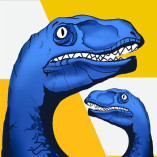 Dino: Merge And Fight
Dino: Merge And Fight is a fusion fighting game between mighty tyrannosaurs and primitive humans on a vast desert island. In this game, you will participate in a fierce battle between dinosaurs and primitive humans. At the beginning of the game, your army will be blue, and your opponent's army will be red.. You will have to merge and increase the number of troops to increase combat power and be ready to fight the enemy. After you win each match, you can use the money you just earned to expand your army and win the next battle. Make a strategy carefully and try to defeat the enemy through each stage. Prove your military might on this wild island. Good luck.
There are also many other exciting action games that you can try, such as Dinosaurs Merge Master, Office Conflict,... Join the day and don't miss it.
How To Play Dino: Merge And Fight
Use the mouse to interact with the game.