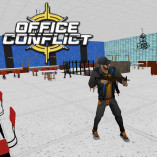 Office Conflict
Office Conflict is an action game that simulates a fierce war that takes place at the main office of the city where you are working. Your company is one of the big companies targeted by the terrorist group. So they planned to invade your company. Your mission is to participate in the fierce war and destroy the cruel terrorists. You will be armed with guns and grenades, and you will have to secretly move forward in search of opponents. Noticing terrorists, you will have to shoot at them with your weapon or throw grenades. You will destroy the opponent. For this you will earn points in this game. Be wary of any noise and get out of your corner to kill the first enemy. Watch out for surprise attacks and carefully roam the room. Keep an eye on entrances and stairs; you never know when the enemy might come. After checking the floor, you can move up or down to support teammates and clear other areas. Make sure your weapons are always full and sharp; Can you win this fierce battle? Join the game and punish the brutal terrorists.
In addition, if you love fighting action games, you can also join some similar games like Killer Zombies Jigsaw, FPS Assault Shooter,...
How To Play Office Conflict
Use the following keys to control the character:
Press the WASD keys to move.

Press SPACEBAR to

Hold the shift key to run.

Press C to bow.

Left-click to shoot enemies.