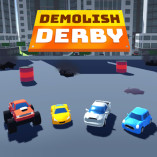 Demolish Derby
Are you ready to join a great war between cars in the game Demolish Derby? This will be a challenging choice for speed riders. In which your goal is to control your car to hit and knock other cars out of the racing arena. You will have to find ways to use your driving skills to knock your opponents off the track and become the only racer that survives in the arena.
To win this game, you must focus on observing and reacting quickly to eliminate your opponent as quickly as possible; otherwise, other opponents will eliminate you from the track. Now let's join the game and dominate the track. Good luck!
How To Play Demolish Derby
Hold down the left mouse button and move to control the car. Be the best racer in the competition!