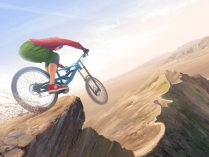 Cycle Extreme
Cycle Extreme is the most attractive 3D off-road racing sport ever. You will face difficult terrain, high cliffs, and many obstacles. Put on your bike gear and get ready to overcome many obstacles. You will be mountain biking downhill and trying to reach the finish line. You will encounter many obstacles along the way, like barrels, wheels, and gaps between mountains, as you try to reach the finish line. Control your bike expertly and avoid collisions like a pro racer. The timer can be seen in the top left corner of the screen. To achieve three stars, try to finish the race as soon as possible. Have fun!
How To Play Cycle Extreme
Use an arrow or W key to speed up/pedal. Left arrow or S to lean back. Right arrow or D key to lean forward.