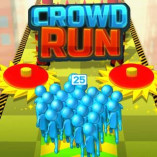 Crowd Run 3D
Crowd Run 3D is the most popular multiplayer obstacle running game today. Your goal is to control your army to overcome obstacles, reach the finish line safely. On the run of each level, there will be many deadly obstacles and traps. You have to control your army to avoid all of them, trying not to lose too many characters. In addition, you also have to fight with other armies on the way to escape. But don't worry, you can send your team through special mirror portals, making your party even bigger. Thanks to that, your fighting ability will be higher and you will easily win against your opponent. If you have not reached the finish line but have been destroyed by opponents and traps along the way, the game will be over and you will have to start over. Do not hesitate to join this super interesting game right away. I hope you're happy!
How To Play Crowd Run 3D
Click and move the left mouse button to control your army through the obstacles and reach the destination safely. Good luck and pass many levels in this game.