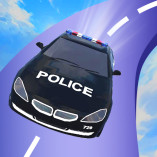 Crazy Car Stunt Car Games
Crazy Car Stunt Car Games is a simulation game about driving a police car over obstacles and reaching the finish line safely. This will be a game for those who love car-driving simulation games with dangerous crashes. With this game, you can perform amazing stunts and become an excellent racer. The racing roads are very steep, and there are many obstacles in the way; you must dodge and pass them safely. Control your speed, observe your surroundings, react quickly, and don't let your car lose control and fall off the track. Now join Game Day and conquer challenging race tracks. Show us your excellent driving skills.

If you love racing games, you can join some interesting games like Offroad Masters Challenge, Drift Boss,... experience them today.
How To Play Crazy Car Stunt Car Games
Use the WASD keys to control the police car. Move the mouse to look around.