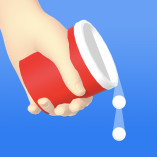 Bounce and Collect
Bounce And Collect is a fun brain game that improves hand-eye coordination and allows players to test their dexterity by adjusting the speed of the balls. Your goal in this game is to collect as many balls as you can by using a cup. Collect all the balls that roll into the cup, completing each level in the game. Each level in the game will stipulate a certain number of collected balls. You will have to collect enough balls to complete each level and advance to the next level.
To collect enough balls into the cup, you have to control a shader cup rolling over the obstacles in the way, and then you will use another cup to catch all the balls rolling into the cup. To catch the most balls, you have to observe the direction of the balls to collect a certain amount of balls. I hope you had fun.
How To Play Bounce and Collect
Hold down the left mouse button and move the cup to catch the ball rolling into the cup, completing each level in the game.