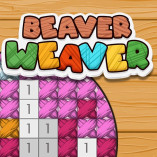 Beaver Weaver
Are you ready to take on the challenge of completing beautiful embroidery pictures with Beaver Weaver game? This is an interesting cross-stitching game. You will choose a picture and proceed to stitch colors into the cells in accordance with the regulations to create a beautiful, complete picture. There are many paintings with many different colors waiting for you to complete. In addition, you will have help as a magic needle and a magic cup will help you sew some large areas of the same color, so that you can complete the picture faster. Join the game right away and create beautiful masterpieces.
How To Play Beaver Weaver
Click and click left to sew the square of the same color. Please complete a lot of beautiful pictures!