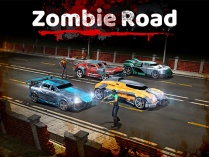 Zombie Road
A zombie invasion is simulated in the action game Zombie Road. It is your duty to utilize weapons to eliminate and destroy these zombies. There are zombies around, so take precautions. The game will end and you will have to restart if you are consumed by zombies.
How To Play Zombie Road
If you have a smartphone:
Device for turning left/right.

Press the gas pedal to accelerate.

To stop or turn in the other direction, use the brake pedal.
Using a computer means that:
To control 1, use the left and right arrow keys.

To brake and accelerate, use the up and down arrow keys.