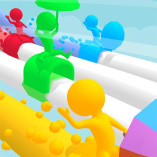 Windy Slider
Windy Slider is an extremely fun racing game with colorful umbrellas, in which you will use the umbrella to gain momentum and reach the finish line. In this game, you will participate in a race with four other people. Each person will sit on a long, winding tube, and each person will hold an umbrella in their hand. Your task is to use the umbrella to catch the wind and slide on the pipes, trying to reach the finish line first. With each winning turn, you will receive a certain number of points, which you will use to upgrade your umbrella to be more modern and faster to improve your chances of winning the next race. Don't hesitate to join this exciting game and become a winner. Good luck!
How To Play Windy Slider
Hold down the left mouse button to catch the wind, then release the mouse button to fly.