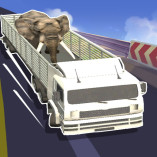 Wild Animal Transport Truck
Wild Animal Transport Truck is a challenging 3D truck driving game where you play as a professional truck driver transporting animals to the zoo. At the beginning of the game, in each level, you will receive the task of transporting animals on different distances. The higher the level, the longer you travel. Your main goal is to drive the wildlife transport vehicle to the marked location in the allotted time, completing each level in the game. Cattle transport is very difficult and dangerous, mostly in mountainous terrain. So use your driving skills to transport animals to a marked safe place.
To save time and make sure you're on the right track, keep an eye on the map in the upper right corner of the screen. How many levels will you achieve in this game? Join now and show us your driving skills. Unlock all levels to become a professional truck driver and transport different animals. Good luck
How To Play Wild Animal Transport Truck
You can use WASD keys or arrow keys to drive.
Press the C key to change cameras.