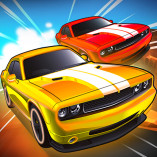 Ultimate Stunt Car Challenge
Ultimate Stunt Car Challenge is a challenging racing game with various difficulty levels, beautiful graphics, and incredible sound effects. Your goal in this game is to earn all the stars in each level by completing the tasks in it and reaching the finish line. The game will have two game modes for you to choose from: 1 player and 2 players
In one-player mode, you will participate in driving and complete challenges through levels in the game. There are many difficult levels waiting for you to explore.
In 2-player mode, you will participate in a car race with one other player. In this mode, your goal is to be the first player to reach the finish line. You can absolutely invite your friends to play with this mode.
There are a total of 15 awesome vehicles for you to unlock. For each car, there are all kinds of different upgrades you can apply to make it the best car on the track. Upgrade your engine, tires, suspension, and more.
When you start, use the arrow keys to move your car. You will encounter ramps, and these ramps will allow you to fly through the air. Once in the air, you can perform a roll for extra points. Be careful not to land upside down, as this will destroy your car and you will have to start again.
Now grip the wheel, make your way through the levels, and earn 3 stars to become the best racer. Good luck!
How To Play Ultimate Stunt Car Challenge
Player 1: Use the arrow keys to control the car.
Player 2: Use WASD keys to control the car.