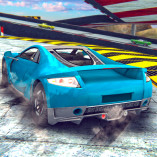 Stunt Car Impossible Track Challenge
Car Impossible Tracks Challenge is a simulation game of driving through crazy turns with impossible tracks by performing crazy stunts with super cars. Accelerate through the level and try not to let the car go off track. You will choose a large umbrella in the garage and start the race. There will be two game modes for you to choose from: timed mission and trial mission.
In time missions mode, you will participate in driving on different roads at each level. For each different level, a specific time level will be specified. And your goal is to drive safely and reach the finish line quickly before the time runs out to complete each level in the game.
With trial missions mode, your goal will be the same as in the first mode; however, the racing tracks in this mode will be more difficult and challenging, and the time it takes you to complete the challenge at each level will be longer.
Drive safely and try to conquer difficult levels in the game. Are you ready to take on this challenge? Join now and prove your driving skills. I Hope you have fun!
How To Play Stunt Car Impossible Track Challenge
You can use the WASD keys to drive the car to conquer different levels in the game.