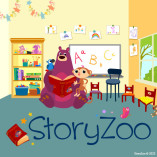 StoryZoo Games
StoryZoo Games is a highly educational entertainment game for kids that helps them get acquainted with the animals in the zoo. Children will be able to play a wide variety of entertaining and educational mini-games, such as word games, puzzle and more. This will be a fun and effective way to help children learn while playing. With this teaching method, it will help your baby easily absorb, remember, and train his brain about animals without you having to teach them mechanically. I'm sure your baby will love playing this game, or you can let him play and teach him many interesting things in this game! The pictures and sounds in the game are very fun and colorful, which will make the children excited. Have fun learning while playing!
How To Play StoryZoo Games
Use the left mouse button and manipulate the screen to play mini games such as word puzzles, puzzles, etc. Have fun playing.