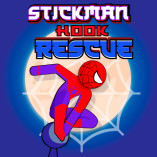 Stickman Hook Rescue
Stickman Hook Rescue is an exciting hostage rescue action game. You will help spiderman rescue girls kidnapped by gangsters. You have to move, avoid colliding with serrated blades, reach the destination safely to complete the hostage rescue mission. On the way to rescue the hostages try to collect as many coins as you can. Let's start the rescue mission!
How To Play Stickman Hook Rescue
To balance oneself, use the mouse or touch the screen on mobile.