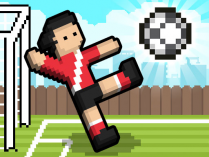 Soccer Random
Soccer Random is the most popular solo soccer game today. In this game, you will direct your player to shoot the ball into the opponent's net. As the game progresses, the stage changes to a different environment, such as the sea, a mountain, a city, or a beautiful snowy day. You will win if you score five goals into the opponent's net first. Display your abilities and reflexes. If you enjoyed it, don't forget to check out our other sports games in the same genre!
How To Play Soccer Random
If you play on a computer:
Player 1: press the "W" key to jump
Player 2: Press the up arrow key to jump.
If you play on your phone, just touch the screen to control your player.