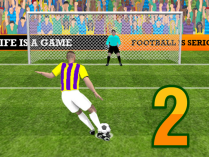 Penalty Shooters 2
Another World Cup season has begun. Let's kick off the season with a game of "Penalty Shooters 2." This is an extremely entertaining knockout soccer game. You can represent your favorite team or even a country's football team. The Cup is divided into two stages: the group stage and the knockout stage. To advance to the knockout round, you must rank first or second in the qualifying group. You can pick your favorite team and try to win every match on promotion to win the league championship. Win the championship by defeating the other teams. Also, don't forget to participate in our World Cup welcome games!
How To Play Penalty Shooters 2
To choose your aim while shooting or where your goalkeeper will dive when defending, use the mouse or your touchscreen.