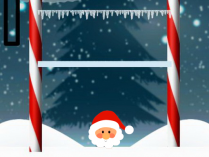 Santa Claus Jumping
Help santa claus collect lost items with a game called Santa Claus Jumping. Santa Claus has dropped the gifts, he is trying his best to collect them all. Visit the game today to help Santa collect the missing gifts and make it to the festival on time. It's also a two-player game, so invite a friend if you want to mingle. You can discover both different Santas by finding their distinctive colored clothes. The winner collects the most gifts. Have a great time!
How To Play Santa Claus Jumping
Use left mouse to control santa claus.