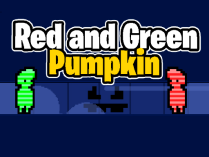 Red and Green Pumpkin
Red And Green Pumpkin is a two-player adventure game. You must collaborate with others. Your mission is to jump and overcome the roads, obstacles, and monsters, as well as collect keys to open the door and proceed to the next screen. Please work well with your teammates to overcome the obstacles. I hope you have a wonderful time!
How To Play Red and Green Pumpkin
To move, press the W-A-S-D and arrow keys, or use your finger on the phone's screen.