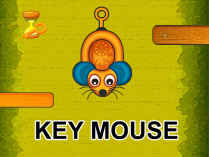 Mouse Key
Mouse Key You use the mouse button to move and gather keys, get past obstacles and difficulties, and travel as far as you can in this game, which has a very straightforward gameplay. Both PCs and smartphones can be used to play the game. Time is running out. The mouse will die if you can't get all the keys in before it dies, forcing you to start over. Enjoy using this mouse!
How To Play Mouse Key
On the computer, you use a mouse click on the screen to play, on the phone touch the screen to play.