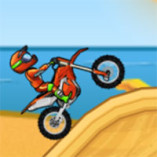 Moto X3M
Moto X3M is a fast racing game full of adventure. With twists and turns and lots of heart-stoppingly dangerous obstacles. Your goal in this game is to control the character driving a sports motorcycle to conquer challenging roads and reach the finish line safely and on time. The game has a total of 25 levels, and each stage of difficulty will be different. How many levels will you pass in this off-road driving game? Join the game now and discover your limits! Also, don't forget to join some of the sequels in the Moto X3M series! A lot of different contexts are set in many parts of this game. Join and explore each part of this game! I hope you have fun!
How To Play Moto X3M
Use the up, down, left, and right arrow keys to control the character and the car in this game.