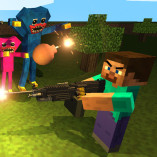 Mine Shooter: Huggy's Attack!
Mine Shooter: Huggy's Attack! is a survival fighting game that protects the Minecraft universe from the invasion of Huggy monsters. Evil monsters plot to invade your territory. Your urgent task is to use your weapons to fight and destroy all Huggy monsters. These creatures are extremely bold, and any mistake you make will cost you your life. So plan your battle carefully to win the victory to protect your territory peacefully and smash the plot to invade the territory of the evil monsters. Join the game now and protect the safe territory. I hope you have fun!
How To Play Mine Shooter: Huggy's Attack!
Use the following keys in combination with the mouse to join this game:
Press the WASD keys to move.
Left-click to shoot monsters.
Right-click to drop the bomb.
Press R to reload.