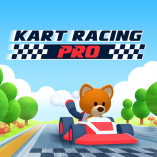 Kart Racing Pro
Are you ready to join an exciting kart race with cute bears in a game called Kart Racing Pro? This will be a challenging choice for speed racers. You will play as a bear, sit on your favorite racing car, and start participating in a racing competition with realistic graphics and winding tracks. On the track will appear fuel tanks; you will have to collect them to power your car to accelerate past the opponent and finish first to win this game. Join the game of speed mastering and become the strongest in this racing game full of adventure. I hope you have fun!
How To Play Kart Racing Pro
Use the left and right arrow keys to control the car.