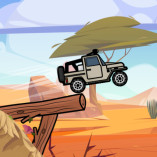 Jeep Driver
If you love speed and want to conquer many new roads, do not ignore the game Jeep Driver. This is an off-road racing game with 30 levels and amazing graphics. In this game, your goal is to drive as far as possible to collect coins and score points. There are a total of 30 levels, and in each level, the difficulty will increase with each stage. A lot of difficult roads and terrain are waiting for you to conquer. However, keep in mind that you should always keep your bike balanced; don't let the car overturn and fall into the abyss, or you will fail. Try to collect as many coins as possible. They will help you upgrade your car to pass the next level in the game. Now, hold the steering wheel firmly, step on the accelerator, and conquer the challenging and adventurous tracks. Have fun playing and driving safely.
There are also many other interesting car racing games waiting for you to discover, such as Traffic Jam 3D, Rally Racer,... Join now and don't miss out.
How To Play Jeep Driver
Use the left and right arrow keys to control the car to accelerate or reverse.
Press SPACEBAR or the UP ARROW KEY to jump.