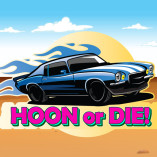 Hoon or Die
Hoon Or Die is a racing game that gives you heart-stopping thrills in fierce chases between racing cars. You will participate in a car race with other cars. Your goal in this game is to collect as many gold coins as possible and not collide with any obstacles on the way. At the beginning of the game, the cars start at different locations. After starting, the cars will frantically speed up, collecting gold coins scattered on the map. However, while collecting gold coins, you will have to notice the red energy bar at the top of the screen. If the energy bar is running low, you must quickly collect the red fuel tank to continue the race, or you will be eliminated from the race when the energy runs out. In addition, you must pay attention, observe, and react quickly to avoid collisions with large rocks or other painful vehicles on the road. Try to collect as many gold coins as you can to upgrade your car in the garage and explore five different track maps in this game. Don't hesitate to join this fierce race right away. Let's become the best racer in the tournament. Good luck!
How To Play Hoon or Die
Use the arrow keys or WASD keys to drive.
Press the S key to Place the trap.