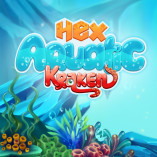 HexAquatic Kraken
HexAquatic Kraken is an exciting sea creature-themed jigsaw puzzle. This will be a way to help you practice observation skills and logical thinking. Your goal in this game is to match sea animals of the same shape and color to make them disappear, completing each level in the game. Each level will specify a certain number of points and time. To pass the level, you must connect the same animals as quickly as possible to complete the specified number of points and still have time to move on to the next level. At each stage, the difficulty of the game will increase, so focus on observing and completing the levels in the game as quickly as possible! In addition, you can also participate in some other interesting match-3 games such as Bubble Shooter Candy Wheel, Solitaire Mahjong Candy,... Have fun!
How To Play HexAquatic Kraken
Use the left mouse button to drag and move to connect the animals with the same shape and color to make them disappear, improving the score to move to the next level.