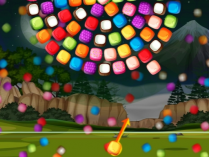 Bubble Shooter Candy Wheel
A shooting game called Bubble Shooter Candy Wheel involves gathering candy. In order to advance in the game, you must fire candies to create groups of at least three of the same hue. You must collect every link on the cake in order to win the game. Your score is steadily dropping, so you need to finish the game as soon as you can to keep your points. Anyone can play this game because of its simple interface and bright color scheme. Join us to compete to see who can score the highest.
How To Play Bubble Shooter Candy Wheel
To shoot candies of the same hue, use the mouse or touch the phone screen. Please find a quick technique to conquer different games at different levels. Best wishes!