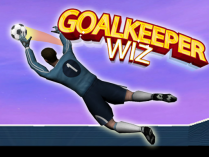 Goalkeeper Wiz
Goalkeeper Wiz is a game that simulates the skills of a goalkeeper. You will transform into a goalkeeper, your task is to catch the balls that the opponent kicks in. The game is a way for you to practice your shooting skills and sharp jumping reflexes. Join training to become an excellent goalkeeper! Do not hesitate to join this exciting game right away.
How To Play Goalkeeper Wiz
Move the mouse to catch the soccer ball. You're a fantastic catcher!