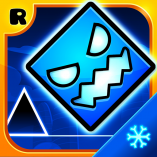 Geometry Dash Subzero
Continuing with the Geometry Dash series, Geometry Dash Subzero is the next installment in this series of games. In this episode, you will experience a series of icy levels filled with dazzling neon lights. As usual, your cube will automatically move, and you only need to control the jumping motion. After some levels, another feature becomes available, like double jumping, crawling under obstacles, unlocking new geometric characters, etc. If you enjoy it, don't forget to check out the other games in the Game Geometry Dash series! I wish you fun!
How To Play Geometry Dash Subzero
Use the following keys on your keyboard to move: up arrow key, spacebar, left click to cross obstacles.