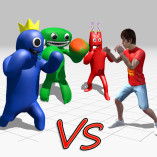 Garten Of Rainbow Monsters
Garten Of Rainbow Monsters is an adventure game in which you will play as either Jack or Sara to fight scary monsters. The city where you live is under threat from ferocious monsters. They are plotting to invade your city. So your mission is to infiltrate their lair, use martial arts skills to destroy them, and prevent them from destroying your city. The monsters are very large and can defeat you at any time. So be very vigilant and launch critical hits to knock down enemies as quickly as possible before your energy is exhausted. At the beginning of the game, you will have an orange energy bar on top. If, during your battle, your mana bar runs out, it means you are about to lose. So watch your energy bar and don't let monsters attack you. How many monsters will you defeat? Join the day and start your journey to save the city now. Good luck!
How To Play Garten Of Rainbow Monsters
Use the arrow keys to move.
Press the Z and X keys to attack the enemy.
Press the C key to defend.