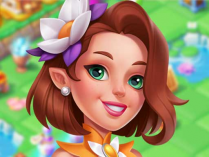 Fairyland Merge & Magic
Fairyland Merge & Magic is a fun crop-merging puzzle game that many people like. You may combine dragons, unicorns, elves, and other fantastic animals. Your aim is to puzzle-combine three identical plants or animals in order to gain several awards. Now is the time to join this fascinating merging game. Check out our website if you enjoy more free merge puzzle games!
How To Play Fairyland Merge & Magic
To merge three of the same objects, use the left mouse button.