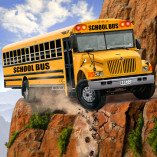 Euro School Driving Coach 3D
Euro School Driving Coach 3D is a brand new 3D bus driving simulation game that has been very popular and most loved so far. In this game, you will play as a seasoned bus driver who drives to school and picks up students safely and on time in stormy, rainy and snowy weather conditions. very harsh. When participating in the driving, you will experience the thrill of heart-pounding when encountering difficult situations and many other dangerous situations on the way to bring students home.
Join the game now and help the driver bring the students home safely and on time. In addition, if you want to challenge and practice your driving skills in many different games, you can try your hand at: Traffic Tour, Offroad Masters Challenge,... Join now and conquer the roads new
How To Play Euro School Driving Coach 3D
Use WASD keys or arrow keys to drive.

Press C to view the camera.

Use the mouse to interact with the game.