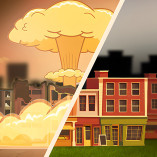 End of War
End Of War is a game that mimics a severe conflict that has just destroyed many houses, and many people require assistance. Everything was destroyed by fire, and just rubble remained. Your main goal in this game is to convert into a superhero that arrives to aid people stuck in wrecked houses rebuild and restore order. war. You can band together, rally other citizens, and quickly restore the city. There are many people who need your assistance; rapidly join the game to assist them in escaping safely. If you're seeking for other fun games, check out Jelly Quest Mania, Rally Racer, and so on. Have a good time!
How To Play End of War
The hero character in the game can be controlled using the WASD or left, right, up, and down arrow keys. Try to save people and construct the largest homes possible.