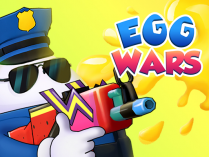 Egg Wars
Egg Wars is an enjoyable shooting game. You will participate in an egg shooting duel in this game. It is your goal to figure out how to destroy all of the eggs on the other islands. Whatever method you choose to break your opponent's eggs, your main goal is to keep them from destroying yours. At the same time, you'll be the war's commander, the finest shooter, and the last man standing. Demonstrate your shooting prowess. Join the game right now to start fighting. Furthermore, we update many other excellent shooting games and games similar to Egg Wars that you may find. Join the adventure right now!
How To Play Egg Wars
Left click to shoot and use the mouse to alter the direction. To move, use the WASD keys. I wish you a good time.