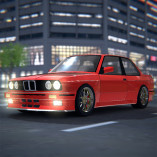 E30 Drift Simulator
E30 Drift Simulator is a driving simulation game in a large city with lots of traffic and an extremely interesting traffic system. Your challenge in this game is to drive a car around the city, performing a series of dangerous and beautiful drifts, to score the highest score. The city where you are is very crowded and bustling; you will have to drive a car around the city at night. There are so many vehicles passing by that you have to skillfully control your car to avoid other vehicles and collisions that cause traffic jams. While driving your car, you will have to move at a fast speed through turns and not fly off the road. When you reach the finish line within a certain time, you will win. Try to perform beautiful drifts and score yourself a high score to beat other opponents on the leaderboard. In addition, you can use the money you just earned to upgrade and unlock new and more modern cars.
In addition, if you love speed racing games, you can also challenge yourself with more difficult levels, such as Impossible Track Car Stunt, Dirt Bike MotoCross,... Join today and conquer the challenges. The racetrack is full of difficulties.
How To Play E30 Drift Simulator
Use WASD keys or arrow keys to drive.
In addition, you can use the mouse to control the car.