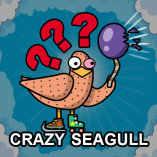 Crazy Seagull
Crazy Seagull is a fun airplane control game where your goal is to fly the plane to blow up more balloons than your opponent to win the game. You will participate in a helicopter balloon blowing contest. Your opponent will be a very agile and flexible bird. The two will compete to see who can blow up the most balloons. The game is set up with extremely simple gameplay and controls, but your opponent is very agile and flexible, which will be a great challenge for you.
To win against your opponent, you must control your plane to fly as fast as possible and explode as many balloons as you can. In addition, you can hit your opponent to prolong the time and prevent the opponent from blowing up the balloons. Now hold the steering wheel and control your fighter plane! Good luck.
How To Play Crazy Seagull
Use the mouse to control the plane and blow up the balloons floating in the sky.