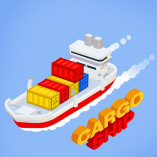 Cargo Ship
Are you ready to join a thrilling expedition as a captain driving a canoe through vast global ports in a game called Cargo Ship? This fascinating expedition offers you the chance to participate in a lucrative trade, explore hidden territories, and hunt for extraordinary relics. Your mission is to navigate the vast seas and travel to locations in America. You will participate in the purchase and sale of goods, explore secret areas, and search for valuable artifacts, including the legendary trident of Poseidon. Many valuable artifacts are waiting for you to discover. Join the game and control the yacht to explore this thrilling expedition. I wish you interesting adventures.
How To Play Cargo Ship
Use the left mouse button to control the yacht. Have a safe and successful expedition.