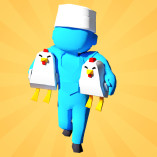 Butcher Warehouse
Butcher Warehouse is the latest farm and business management game on our website, with very unique and attractive ways of farming. In this game, you will play the role of a farmer who both manages the farm and trades in the items that the farm can grow. People will visit your store to buy essential foods, and you will have to deliver those foods to them quickly and collect money to keep your business running. Don't delay, or the difficult guests will leave and your business will be delayed. So please manage your farm and business activities properly! I wish you would become a talented farm manager.
How To Play Butcher Warehouse
Use the left mouse button and manipulate the screen to provide the food that the customer requires.