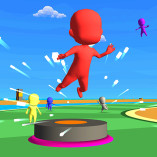 Bouncy Race 3D
Bouncy Race 3D is an exciting multiplayer racing game in which you will compete with many other players on zig zag tracks. In this game, you will participate in a running competition on a long, winding road on the sea surface. Your goal is to dodge the obstacles, speed past your opponents, and be the first to finish each level to win. In addition to running, your athlete can fly to shorten the running distance, easily surpassing the opponent. However, you need to be aware that on the track there will be a lot of obstacles and acceleration aids. You need to dodge obstacles and grab speed aids that can help you get to the finish line as fast as possible. Now join the game and start racing to become the champion in this exciting running competition. I hope you have fun!
How To Play Bouncy Race 3D
You can use the mouse or the left and right arrow keys to control the character in the game.