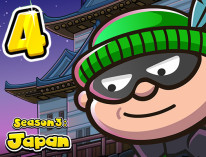 Bob The Robber 4 Season 3: Japan
Are you ready to perform challenges with Bob with Bob The Robber 4: Japan? This time, the context of the theft will take place in a building in Japan. There are many treasures, money and jewelry to steal! At the same time, there are also many strict surveillance and mummies. Your task is to help Bob move stealthily, very carefully when not detected and complete the task quickly. Remember, any mistake you make will cause you to be discovered and you will immediately be arrested. So, take careful action. I wish you happy!
How To Play Bob The Robber 4 Season 3: Japan
To move, use the left and right arrow keys. Interact with items by pressing the up arrow key. When you're close to an adversary, use the space bar to knock them out.