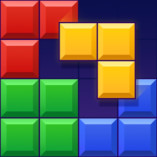 Block Blast
Block Blast is a puzzle game with many interesting questions. In it, you will have to go through many different levels of tough questions. Your goal is to fill the empty squares with blocks and make them disappear. Your score will increase as soon as you fill the empty cells and they disappear. The game has 50 levels, each of which increases in difficulty. Remember that the squares will have different colors, but you won't need to put colored blocks together. You can shuffle things to fill in the gaps and make them disappear. Colorful square blocks just to give you more confusion and increase the difficulty of the game. So you don't need to pay much attention to them; just fill in the gaps. How many levels will you pass with this fun puzzle game? Challenge yourself with this fun game.
Also, if you want to try many other interesting puzzle games, you can join those games on our website. I hope you have fun!
How To Play Block Blast
Hold down the left mouse button then drag and move the blocks of different shapes to fill the gaps to collect points and complete each level. I hope you have fun!