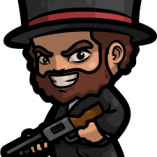 Battledudes
Battledudes is an extremely attractive shooting game. You will fight with other players shooting and knocking down opponents to become the strongest. You will trace on the road map to know where your opponent is to destroy. The opponent will show red dots on the screen; you will go there and use your gun to defeat him. The game has many separate maps and many game modes for you to choose from. If you love games of similar genre, you can join some of these games: Spooky Bubble Shooter, Crazy Monster Shooter,... Have fun playing!
How To Play Battledudes
WASD is used to move.

To fire, use the left mouse button, R to reload, and E to enter vehicles.

To swap weapons, use the mouse scroll wheel or the 1-4 number keys.

To magnify the map, use M or Tab.

In the Settings menu, you may change the controls.