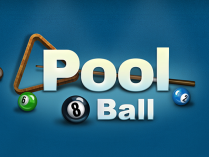 8 Ball Pool
If you want to hone your billiards skills, then join the 8 Ball Pool game right away. This game accurately simulates the game of billiards. Join the game you will be approached and trained to become a professional gamer. There are different modes in the game and you can customize them so you don't get bored after a while. If you manage to complete the level game, you will get surprising results. Hone your billiards skills to become a pro gamer. Join now. Don't forget to check out some of our other interesting game genres such as action, halloween, and so on. I hope you have a good time!
How To Play 8 Ball Pool
Drag the marbles into the hole while holding down the left mouse button.