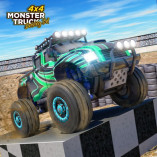 4x4 Monster Truck Driving 3d
If you are a truck driving lover, then don't miss the game called 4x4 Monster Truck Driving 3D. This is an extremely attractive 3D truck driving simulation game. With this game, your challenge will be to drive a truck on many different terrains, such as Snow trails, Rainy roads, mountain climbing, zigzag running, steep mountain roads, in each game's terrain stage, The gameplay will be different, so the game's difficulty will increase. Control your truck with precision and drive it at high speed through harsh terrain.
Try to focus on the terrain and roadside obstacles to drive safely and reach the finish line quickly. If you want to experience more driving games, you can join some similar ones below: Traffic Jam 3D, Offroad Masters Challenge, etc.—join now and don't miss out.
How To Play 4x4 Monster Truck Driving 3d
Use the following keys to join the game:
Press the WASD keys or the arrow keys to drive.

Press SPACEBAR to Hand brake.

Press C to Switch cameras.