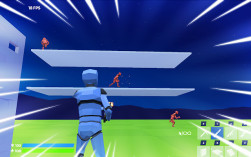 1v1.LOL Unblocked
1v1.LOL Unblocked is the tactical 3D shooting game that is currently the most popular. In this game you will participate in fighting against the enemy. Build your own base to defend and wait for the opportunity to use guns and other weapons to destroy the opponent. You can play this game with your friends, form a group, up the tactics to defeat the opponent and win. You can equip weapons and clothes for your character to participate in this fierce battle. You will use your weapon to destroy the towers built by enemies. Do not hesitate to join this interesting game right away. Do not forget to invite friends to play this game! In addition, you can participate in some other attractive survival games such as: FPS Assault Shooter, Street Fighter 2, ... Have fun playing!
How To Play 1v1.LOL Unblocked
Use the arrow or WASD keys to move.

Use the left mouse button to shoot.

To zoom, use the right-click menu.

To launch grenades, use the G key.

To switch weapons, press H.

To run, hold down the shift key.

Use the space bar to jump.

Use the L key to lock or unlock the cursor.