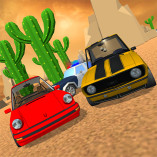 Police Car Chase Simulator
Police Car Chase Simulator is an action racing game set in the desert where you can try to be a cop and drive cars to catch criminals hiding in the desert. In this game, your goal is to drive your car to catch up with the criminals who are on the run in the desert and knock them down with bumps. Also, if you do not catch criminals, you will collect for yourself piles of cash scattered in the desert to improve your score and help you upgrade the car to become more modern in the garage. However, while driving, you must be very careful and avoid colliding with obstacles in the desert: cactus, colliding with other cars, etc.Otherwise, you will lose the chase for this crime. Note that you are only allowed to cause other cars to collide with each other or other cars to crash into you. Therefore, be careful while on duty. Use your driving skills to catch robbers who complete assigned missions. Now grab the handlebars and start the game right away. Good luck!
How To Play Police Car Chase Simulator
You can use the arrow keys or WASD keys to drive.
Left-click to shoot the enemy.
Press the ESC key to pause.